"Barracuda" is a song written and recorded by the rock band Heart. It was released as the first single from the band's second album Little Queen(1977).
Lyrics:
So this ain't the end, I saw you again today
Had to turn my heart away
You smiled like the Sun, kisses for everyone
And tales, it never fails!
You lying so low in the weeds
Bet you gonna ambush me
You'd have me down, down, down to my knees
Wouldn't you, Barracuda?
Back over time when we were all trying for free
Met up with porpoise and me
No right no wrong you're selling a song, a name
Whisper game
If the real thing don't do the trick
You better make up something quick
You gonna burn it out to the wick
Aren't you, Barracuda?
"Sell me sell you" the porpoise said
Dive down deep to save my head
You, I think you got the blues too.
All that night and all the next
Swam without looking back
Made for the western pools, silly fools!
This was written by Ann and Nancy Wilson together with guitarist Roger Fisher and drummer Michael DeRosier. According to the band, the song is a statement about the record industry in general. It was written at a time when there was friction between the band and their label. 
Little Queen
 was the first album Heart released for the CBS-Portrait label. Their old label, Mushroom Records, sued the band and in 1978 released 
Magazine
, an album made up of previously recorded material that Heart did not want released. (Thanks to Sovereign Records for this information.)
The Wilson sisters revealed in various interviews that the song was about Heart's anger towards an ad Mushroom Records placed in trade publications implying that the Ann and Nancy were lesbians having an affair (see the 
full ad and read more about it
). The song focuses on Ann's rage towards a promoter who came up to her after a concert in Detroit asking how her "lover" was. She initially thought he was talking about her then boyfriend – band member Michael Fisher. After he revealed he was talking about her sister Nancy Wilson, Ann became angry and went back to her hotel room to write the song. Nancy put suitably angry music to the words to complete the song comparing the sleazy side of music to a dangerous fish.
This song can be heard in the movie 
Charlie's Angles
. (thanks, Brandon – Peoria, IL)
Fergie performed this with Heart at the 2008 Idol Gives Back charity special on 
American Idol
. (thanks, Bertrand – Paris, France)
During the 2008 presidential campaign, this song was used as the as the unofficial theme song for Republican Vice Presidential nominee Sarah Palin. The Alaska governor originally earned the nickname "Sarah Barracuda" when she played basketball in high school, because of her fierce competitiveness. The name was revived after Palin became mayor of her hometown, Wasilla, in 1996 and it was played at the 2008 National Republican Convention, after she gave a speech. The next day, Ann and Nancy Wilson issued a statement that said: "The Republican campaign did not ask for permission to use the song, nor would they have been granted that permission. We have asked the Republican campaign publicly not to use our music. We hope our wishes will be honored."
Their wishes were not honored, and the song was played at the convention that night after their presidential nominee John McCain spoke and Palin joined him on stage. As the Republican campaign pointed out, they had obtained the proper performance rights to the song and were under no obligation to get further permission to use it (they would have if they wanted to use it in a commercial or video).
With no legal recourse, the Wilson sisters retaliated in the media, telling 
Entertainment Weekly
: "Sarah Palin's views and values in NO WAY represent us as American women. We ask that our song 'Barracuda' no longer be used to promote her image. The song 'Barracuda' was written in the late 70s as a scathing rant against the soulless, corporate nature of the music business, particularly for women. While Heart did not and would not authorize the use of their song at the RNC, there's irony in Republican strategists' choice to make use of it there."
The song's co-writer Roger Fisher was also anti-Palin, but he saw things differently, telling Reuters he was "thrilled" that the song was being used as it was a win-win situation. He explained that while Heart gets publicity and royalties, the Republicans benefit from "the ingenious placement of a kick-ass song." He added that he would use some of the proceeds in a donation to the Obama campaign, and thus, "the Republicans are now supporting Obama."
Heart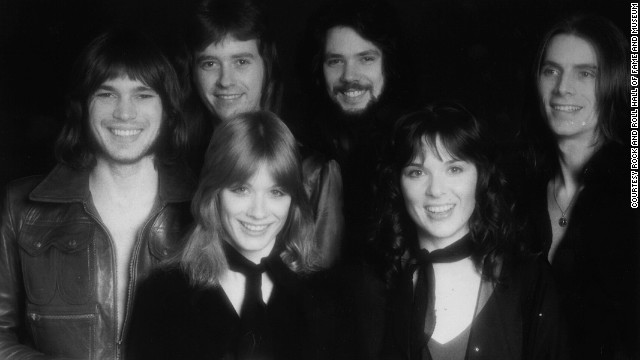 Also known as
The Army (1963, 1967-1969)
White Heart (1969–1972)
Hocus Pocus (1972–1973)
Origin
(Members from) Seattle,
Washington, USA
(Band based in) Vancouver,
British Columbia, Canada (1973–76)
Genres
Rock, folk rock
Years active
(1973–present)
Labels
Mushroom, Epic, Sony BMG, Portrait,Legacy, EMI, Capitol, Shout! Factory,Sovereign, Sony Legacy
Associated acts
The Lovemongers
Alias
Website
www.heart-music.com
Members
Ann Wilson
Nancy Wilson
Ben Smith
Craig Bartock
Debbie Shair
Dan Rothchild
Past members
See: Former members
image by PixieCold