On 3 October more than 300 migrants travelling from north Africa to southern Europe lost their lives. The official toll for that tragedy – in which a boat loaded with about 500 migrants caught fire and sank in one of the worst disasters to hit the area in recent years – rose to at least 339 on Friday .
On 11 October a second shipwreck at least 34 were later confirmed dead.
A Dying Sailor to His Shipmates by Bono
Lyrics:
Oh, wrap me in my country's flag
And lay me in the cold, blue sea
Let the roaring of the waves
My solemn requiem be
And I shall sleep a pleasant sleep
While storms above their vigils keep
My Captain brave shall read for me
The service of the silent air
And yay, shall lower me in the waves
When all the prayers are said
And I will find my long, long home
Among the billows and the foam
Farewell my friends, for many I leave
We've sailed together on the deep
Come, let us shake our hands
I'll sail no more but ship mains work for me
I'm bound above, my course is run
I near the port, my voyage is done
This sea chantey, performed by Bono, can be found on the compilation album Rogue's Gallery: Pirate Ballads, Sea Songs and Chanteys.
Va, pensiero by Giuseppe Verdi
"Va, pensiero", also known in English as the "Chorus of the Hebrew Slaves", is a chorus from the third act of Nabucco (1842) by Giuseppe Verdi, with a libretto by Temistocle Solera, inspired by Psalm 137. Known as Verdi's "Jewish" work of art, it recollects the story of Jewish exiles from Judea after the loss of the First Temple inJerusalem. The opera with its powerful chorus established Verdi as a major composer in 19th-century Italy. The fullincipit is "Va, pensiero, sull'ali dorate", meaning "Fly, thought, on wings of gold"
Lyrics:
Italian

Translation in English

Va, pensiero, sull'ali dorate;
va, ti posa sui clivi, sui colli,
ove olezzano tepide e molli
l'aure dolci del suolo natal!Del Giordano le rive saluta,
di Sionne le torri atterrate…
O, mia patria, sì bella e perduta!
O, membranza, sì cara e fatal!Arpa d'or dei fatidici vati,
perché muta dal salice pendi?
Le memorie nel petto raccendi,
ci favella del tempo che fu!O simile di Sòlima ai fati
traggi un suono di crudo lamento,
o t'ispiri il Signore un concento
che ne infonda al patire virtù.
Fly, thought, on wings of gold;
go settle upon the slopes and the hills,
where, soft and mild, the sweet airs
of our native land smell fragrant!Greet the banks of the Jordan
and Zion's toppled towers…
Oh, my country, so beautiful and lost!
Oh, remembrance, so dear and so fatal!Golden harp of the prophetic seers,
why dost thou hang mute upon the willow?
Rekindle our bosom's memories,
and speak to us of times gone by!Mindful of the fate of Jerusalem,
give forth a sound of crude lamentation,
or may the Lord inspire you a harmony of voices
which may instill virtue to suffering.
The chorus's theme: exiles singing about their homeland, and its lines like O mia patria, si bella e perduta / "O my country, so lovely and so lost"
Giuseppe Verdi
Giuseppe Fortunino Francesco Verdi ( 9 or 10 October 1813 – 27 January 1901) was an Italian Romantic composer primarily known for his operas. Verdi and Richard Wagner are considered the two preeminent opera composers of the nineteenth century. Verdi dominated the Italian opera scene after the eras of Bellini, Donizetti and Rossini. His works are frequently performed in opera houses throughout the world and, transcending the boundaries of the genre, some of his themes have long since taken root in popular culture, as "La donna è mobile" fromRigoletto, "Libiamo ne' lieti calici" (The Drinking Song) from La traviata, "Va, pensiero" (The Chorus of the Hebrew Slaves) from Nabucco, the "Coro di zingari" (Anvil Chorus) from Il trovatore and the "Grand March" from Aida.
Moved by the death of compatriot Alessandro Manzoni, Verdi wrote Messa da Requiem in 1874 in Manzoni's honour, a work now regarded as a masterpiece of the oratorio tradition and a testimony to his capacity outside the field of opera. Visionary and politically engaged, he remains – alongside Garibaldi and Cavour – an emblematic figure of the reunification process of the Italian peninsula (the Risorgimento).
Bono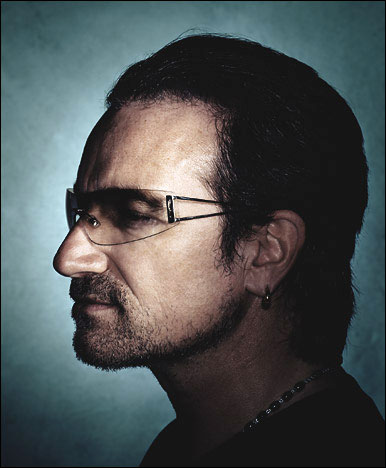 Background information
Birth name
Paul David Hewson
Also known as
Bono, Bono Vox
Born
10 May 1960 (age 53)
Dublin, Ireland
Origin
Finglas, County Dublin, Ireland
Genres
Rock, post-punk, alternative rock
Occupations
Musician, singer-songwriter, activist, philanthropist
Instruments
Vocals, guitar, harmonica
Years active
1976–present
Associated acts
U2, Passengers
Website
u2.com
All of the caskets had a single rose on top except for the four of the youngest victims, which had stuffed animals