This song was inspired by a conspiracy theory website called Rigorous Intuition that vocalist Andrew VanWyngarden became engrossed in. He explained to NME: "This Canadian guy who does it just goes way too deep on the most messed-up stuff that's happening. I enjoy reading it, but I hope it's not really happening because it's the most sadistic, awful stuff. You can go to this blog and spend a couple of days reading and just crying."
Lyrics:
Whenever I drift by the unknown,
Feign like I notice a fundamental tone
The fine petals open
And close, offended,
Poor explanation and nothing shown
Kind of like if a friend
Exits without a sign
Glimmering like a precious stone
Maybe we shared a dream
For twenty nights in a row
I might feel better knowing that I was alone
Wherever scientists turn lead to birds,
Torment ignites essence, delights from the earth
What you find shocking
They find amusing,
Something else to soften a sadistic urge
When they tell you the extent of the vice
Then the prime time mission is to choke the statistician,
And like the senses that you're lurking behind
While it gnaws right through to your core,
Oh I'd twist it more
If you think that you're free (free like a kite)
Watching as it goes by (spy the unknown),
Focus on the quiet oars
Tell me how far you'd go (go where you like)
Knowing your air won't last (last one to know)
Would you feel better holding the stars up?
What if the beast escapes (apes have it good)
And separates like a cloud (loud like a fault),
Seeps into the hollow bones?
Wouldn't it's eyes expand
And zero in like a scope?
I might feel better
Knowing I wasn't alone
……
"MGMT's brand of psychedelic indie rock is typically fun and carefree—a groovy trip, man; just check out their performance of "Plenty of Girls in the Sea" on Fallon while wearing scuba gear. But the music video for "Cool Song No. 2," another track from the band's trippy self-titled new album, is a deeply frightening, no good very bad trip. No amount of Valium will turn this one around, guys.
In the clip, Michael K. Williams, aka Omar from The Wire and Chalky White from Boardwalk Empire, plays a bonafide gangster and violent drug lord, not unlike his character on The Wire, named the Plant Hunter. He transforms genetically modified plants into scary drugs, robbing a grow lab (and murdering its attendant with his bare hands) then dispatching to the desert, where he kills another man (again with his bare hands) and takes over his drug super lab. A moment of reflection, though, comes when another man, this one close to the Plant Hunter, has an apparent overdose and turns into a… well… you'll have to watch above to see for yourself. "William Goodman
MGMT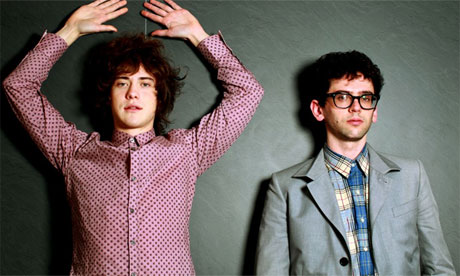 Origin
Middletown, Connecticut, United States
Genres
Psychedelic rock, neo-psychedelia,synthpop, indie pop, indietronica,progressive rock
Years active
2004–present
Labels
Cantora, Columbia, Sony, RED
Website
www.whoismgmt.com
 
Members
Andrew VanWyngarden
Ben Goldwasser
Will Berman
Matt Asti
James Richardson