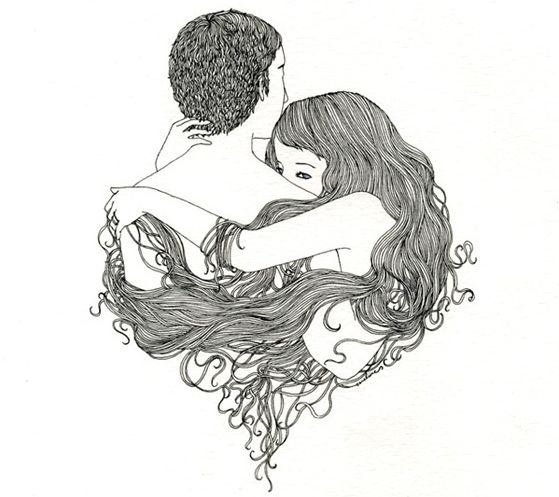 φαίνεταί μοι κῆνος ἴσος θέοισιν
ἔμμεν' ὤνηρ, ὄττις ἐνάντιός τοι
ἰσδάνει καὶ πλάσιον ἆδυ φονεί-
σας ὐπακούει
καὶ γελαίσας ἰμέροεν, τό μ' ἦ μὰν
καρδίαν ἐν στήθεσιν ἐπτόαισεν·
ὠς γὰρ ἔς σ' ἴδω βρόχε', ὤς με φώναί-
σ' οὐδ' ἒν ἔτ' εἴκει,
ἀλλά κὰμ μὲν γλῶσσα †ἔαγε†, λέπτον
δ' αὔτικα χρῷ πῦρ ὐπαδεδρόμηκεν,
ὀππάτεσσι δ' οὐδ' ἒν ὄρημμ', ἐπιρρόμ-
βεισι δ' ἄκουαι,
κὰδ' δέ ἴδρως κακχέεται, τρόμος δὲ
παῖσαν ἄγρει, χλωροτέρα δὲ ποίας
ἔμμι, τεθνάκην δ' ὀλίγω 'πιδεύης
φαίνομ' ἔμ' αὔτᾳ.
ἀλλὰ πὰν τόλματον, ἐπεὶ †καὶ πένητα†…
—-
English Transliteration:
phainetai moi kênos isos theoisin
emmen' ônêr ottis enantios toi
isdanei kai plâsion âdu phonei-
sâs upakouei
kai gelaisâs îmeroen to m' ê mân
kardiân en stêthesin eptoaisen.
ôs gar es s' idô brokhe' ôs me phônai-
s' oud' en et' eikei,
alla kam men glôssa eâge lepton
d' autika khrôi pur upadedromâken
oppatessi d' oud'en orêmm' epirrom-
beisi d' akouai,
kad de m' idrôs kakkheetai tromos de
paisan agrei khlôrotera de poiâs
emmi tethnâkên d' oligô 'pideuês
phainom' em' autâi.
Alla pan tolmaton, epei [kai penêta] …
—-
Literal translation by Gregory Nagy:
He appears to me, that one, equal to the gods,
the man who, facing you,
is seated and, up close, that sweet voice of yours
he listens to
And how you laugh your charming laugh. Why it
makes my heart flutter within my breast,
because the moment I look at you, right then, for me,
to make any sound at all won't work any more.
My tongue has a breakdown and a delicate
— all of a sudden — fire rushes under my skin.
With my eyes I see not a thing, and there is a roar
that my ears make.
Sweat pours down me and a trembling
seizes all of me; paler than grass
am I, and a little short of death
do I appear to me.
But all may be ventured, since even [the poor]…
"Translations of Sappho, until recent years, have been fantastically inappropriate. . . . Today a sufficient number of literal translations by modern poets may enable the reader of English to envelop Sappho and measure her as we do distant stars by triangulation from more mundane objects. It then becomes apparent that we are not deluding ourselves. There has been no other poet like this. Wherever enough words remain to form a coherent context, they give one another a unique luster, an effulgence found nowhere else. Presentational immediacy of the image, overwhelming urgency of personal involvement — in no other poet are these two prime factors of lyric poetry raised to so great a power."
—Kenneth Rexroth, Classics Revisited
It's impossible to really understand this poem through only one translation, Here are some of the many translations of this poem (there have been well over 100 into English alone).
image by Eveline Tarunadjaja