"Love is Strange" was a crossover hit by American rhythm and blues duet Mickey & Sylvia, which was released in late November 1956 by theGroove record label. The song was based on a guitar riff by Jody Williams. The co-writers of the song are of some dispute. The song has also been recorded by Buddy Holly and Bo Diddley, among others. The guitar riff was also used by Dave "Baby" Cortez in his 1962 instrumental song "Rinky Dink".
Lyrics:
Love
Love is strange
Lot of people
Take it for a game
Once you get it
You never want to quit
After you've had it
You're in an awful fix
Many people
Don't understand
They think loving
Is money in the hand
Your sweet loving
Is better than a kiss
When you leave me
Sweet kisses I miss
Sylvia
Yes, Mickey
How do you call your lover boy
Come here, lover boy
And if he doesn't answer
Oh lover boy
And if he still doesn't answer
I simply say
Baby, oh baby
My sweet baby, you're the one
Baby, oh baby
My sweet baby, you're the one
……
At a concert at Howard Theatre in Washington, D.C. Mickey & Sylvia heard Jody Williams play a guitar riff that Williams had played on Billy Stewart's debut single "Billy's Blues". "Billy's Blues" was released as a single in June 1956 and the instrumentation combined a regular blues styling withAfro-Cuban styling. Sylvia Robinson claims that she and Mickey Baker wrote the lyrics, while Bo Diddley claims that he wrote them.
The first recorded version of "Love Is Strange" was performed by Bo Diddley, who recorded his version on May 24, 1956 with Jody Williams on lead guitar. This version was not released until its appearance on I'm a Man: The Chess Masters, 1955-1958 in 2007. Mickey & Sylvia's version was recorded several months later on October 17, 1956. The song is noted for its spoken dialogue section which goes as follows:
"Sylvia!"
"Yes, Mickey."
"How do you call your Lover Boy?"
"Come here, Lover Boy!"
"And if he doesn't answer?"
"Oh, Lover Boy!"
"And if he still doesn't answer?"
"I simply say…"
(Sung) "Baby/ Oh baby/ My sweet baby/ You're the one."
(The sung part is repeated with Mickey singing the harmony.)
(This is followed by a repeat of the instrumental section before the song's fade.)
Ewan McGregor & Louise Germaine, clip from "Lipstick on your Collar" (1993):
"Love Is Strange" peaked at #1 Billboard magazine's R&B Singles chart and #11 on the Hot 100. In 2004 "Love Is Strange" was inducted into the Grammy Hall of Fame for its influence as a rock and roll single. The song was featured in Dirty Dancing and included on the soundtrack, which is one of the best-selling albums of all time. It was also featured in Casino (film).
Cover versions
Charting versions
In 1967, Peaches & Herb's version of the song charted on both Billboard's Hot 100 and R&B Singles charts peaking at #13 and 16, respectively. Their version does feature the spoken dialogue and the repeated phrases, similar to the Mickey and Sylvia version. Buddy Holly recorded a version of "Love is Strange" that was not released until 1969, a decade after his death. His version reached #115 on the Bubbling Under Hot 100 Singles chart and #76 on the RPM 100. In 1971, the song was covered by Paul McCartney in his Wings album, Wild Life. In 1975, Buck Owensand Susan Raye had a Top 20 country hit with the song. The song was also covered in 1990 by Kenny Rogers and Dolly Parton. The recording, the title cut of Rogers' Love Is Strange album, was released as a single, and reached #21 on the U.S. country singles chart.
Other versions
Lonnie Donegan recorded a version which appeared on the B-side of his 1957 hit single, "Cumberland Gap". Chubby Checker, accompanied by Dee Dee Sharp, covered the song on the 1960 record "Twist with Chubby Checker". The Everly Brothers released a rendition in 1965 as a single, which reached # 11 in the UK in 1965, and on their Beat & Soul album. Sonny and Cher also covered the song in 1964, as did Betty Everett and Jerry Butler. Paul McCartney sang it as a duet with wife Linda on the Wings album Wild Life (1971). Ian & Sylvia recorded a country rock-flavored cover in the early 1970s, but their version was unreleased until its inclusion in the 1996 CD The Beginning of the End. Everything but the Girl covered the song on their album Acoustic in 1992; the German CD re-issue of Worldwide also included the track from that album. The song also appears in the film Deep Throat and its soundtrack album, covered by unknown artists. Also in 1998, German synth-pop band Wolfsheim did a cover of the song for their EP Once in a Lifetime. Jackson Browne and David Lindley also covered the song on the live album Love is Strange, which captures live highlights from their 2006 tour of Spain.
Musician B.o.B sampled "Love Is Strange" for his song "My Sweet Baby", from his mixtape B.o.B vs. Bobby Ray (2009).
Pitbull samples part of the song's guitar riff in his song "Back in Time" for the film Men in Black III, which was released in April 2012 by RCA.
Mickey & Sylvia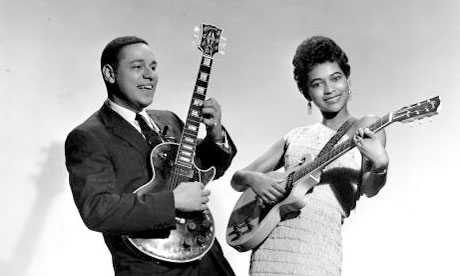 Mickey & Sylvia was an American R&B duo, composed of Mickey Baker and Sylvia Vanderpool, who later became Sylvia Robinson. They were the first big seller for Groove Records.

Mickey was a music instructor and Sylvia one of his pupils. Baker was inspired to form the group by the success of Les Paul & Mary Ford. They had a Top 20 hit with "Love Is Strange" in 1956, which sold over one million copies and was awarded a gold disc.[3] The duo eventually bought their own nightclub, established a publishing company, and formed their own record label. Although Mickey & Sylvia disbanded by the end of the 1950s, they continued to record together on an infrequent basis until 1965, when Mickey quit the music industry in the United States.
Mickey had a successful career as a session musician before moving to Paris, France, where he remained for the rest of his life. Sylvia had a hit record in 1973 with "Pillow Talk," and later assisted in the formation of the Sugar Hill rap label. Sylvia died in 2011 and Mickey died in 2012.
image: freaky by Fukari