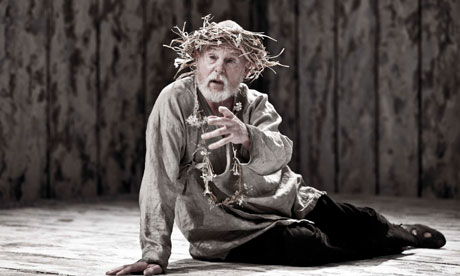 Edmund or Edmond is a fictional character and the main antagonist in William Shakespeare's King Lear. He is the illegitimate son of the Earl of Gloucester, and the younger brother of Edgar, the Earl's legitimate son. Early on in the play, Edmund resolves to get rid of his brother, then his father, and become Earl in his own right. He later flirts with both Goneril and Regan and attempts to play them off against each other.
Act I, Scene 2
Thou, Nature, art my goddess; to thy law
My services are bound. Wherefore should I
Stand in the plague of custom, and permit
The curiosity of nations to deprive me,
For that I am some twelve or fourteen moonshines
Lag of a brother? Why bastard? wherefore base?
When my dimensions are as well compact,
My mind as generous, and my shape as true,
As honest madam's issue? Why brand they us
With base? with baseness? bastardy? base, base?
Who, in the lusty stealth of nature, take
More composition and fierce quality
Than doth, within a dull, stale, tired bed,
Go to th' creating a whole tribe of fops
Got 'tween asleep and wake? Well then,
Legitimate Edgar, I must have your land.
Our father's love is to the bastard Edmund
As to th' legitimate. Fine word- 'legitimate'!
Well, my legitimate, if this letter speed,
And my invention thrive, Edmund the base
Shall top th' legitimate. I grow; I prosper.
Now, gods, stand up for bastards!
—-
This is the excellent foppery of the world, that, when we are sick in fortune, often the surfeit of our own behaviour, we make guilty of our disasters the sun, the moon, and the stars; as if we were villains on necessity; fools by heavenly compulsion; knaves, thieves, and treachers by spherical pre-dominance; drunkards, liars, and adulterers by an enforc'd obedience of planetary influence; and all that we are evil in, by a divine thrusting on. An admirable evasion of whore-master man, to lay his goatish disposition to the charge of a star! My father compounded with my mother under the Dragon's Tail, and my nativity was under Ursa Major, so that it follows I am rough and lecherous. Fut! I should have been that I am, had the maidenliest star in the firmament twinkled on my bastardizing.